Self -Service Multi-function ATM

for

bill payment , cash dispenser ,transfer accounts
Hongzhou is dedicated to making technology work for the humans who use it. We provide solutions that simply work better and more intuitively. Every ATM product, service, and support system is engineered to be reliable and flexible. We listen to our customers and continually improve our offerings to reflect their input. We bring that innovation to banking. It is this commitment to human technology that has made us a dependable partner and global leader in the ever-changing world of banking.
OVERVIEW OF THE ATM BUSINESS:
Owning and maintaining ATM is a way many people earn a living and create additional or passive income streams. Are you looking to buy an ATM Machine, place ATM Machines or start an ATM business? We have all the top selling ATM machines for sale and can help you out in a selection of an ATM machine!
As an owner of an ATM business, you are buying ATM machines, finding locations and installing them in locations, filling them with cash and making money every time a customer withdrawals money from the machine. Once the money is taken out of your ATM it is re-deposited into a bank account of your choice on a daily basis along with the surcharge fees. A portion of the surcharge fee is typically paid to the merchant in the form of a commission or split. Additional revenue can be made on each ATM transaction in the form of interchange. All your machines can be monitored online through a portal where you can see real time information about how much cash is in each machine and how many transactions and fees have occurred.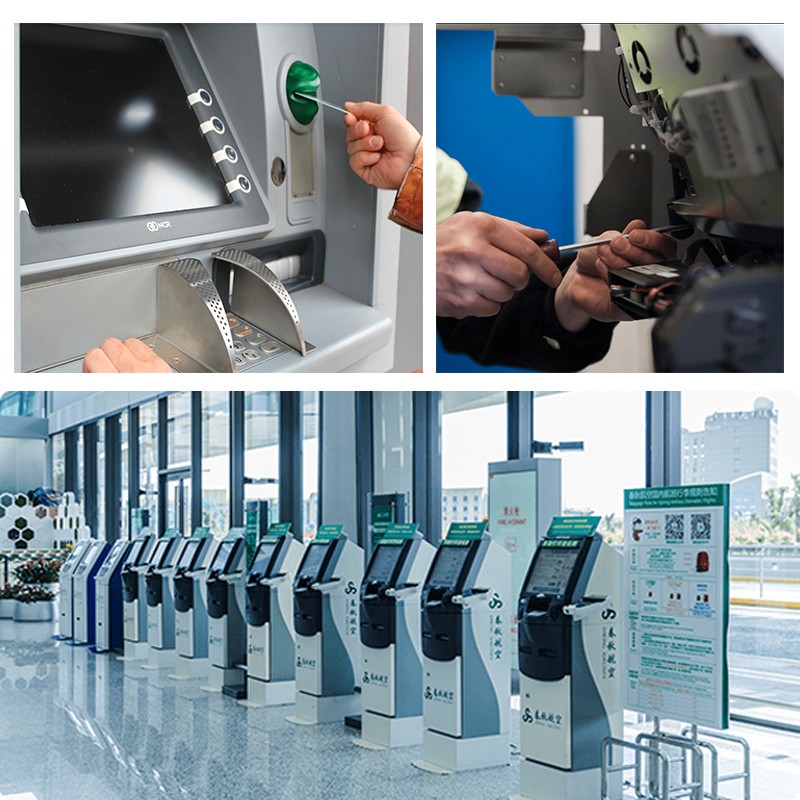 User Experience
The brilliant 19-inch color display has capacitive touch function keys and a more elegant user interface. The integrated topper now has a brightness control (high, medium, and low) allowing the ATM kiosk to be customized to any environment, from bright C-stores to dark nightclubs. Arrows at the card and receipt slots light up to direct the user to those areas. All with a 6K note capacity.
Serviceability
Our engineers added a light in the vault to make it easier to cash load and service the ATM. Never again will someone need to hold a flashlight while trying to work inside. The new ATM kiosk also gives maximum installation versatility. Four power cord holes allow the machine to be placed anywhere, even flush against the back wall. Plus, additional bolt-holes make it easy to replace any ATM with the ATM kiosk.
Security
The ATM kiosk has an optional camera that photographs the user during transaction and stores it with the associated transaction record. It can also display the camera view on the transaction screen to make the user aware of being filmed, thus thwarting potential misuse. An additional camera mount is provided to allow installation of a third-party camera for even more security
Connectivity
Wireless has quickly become one of the most prevalent forms of ATM communication. Now there's an option for protecting your wireless investment as well as ensuring uptime. The ATM kiosk offers a new wireless mounting bracket and two additional power outlets: one for your wireless modem and another for any other device like a video topper. The bracket also keeps communication cables up and out of the way when accessing the top of the ATM and changing receipt paper.
Here is a general layout of the parts on an ATM
Shell– The exterior of the ATM, can be purchased without the dispenser.
Topper– Adds potential advertising space for the ATM
Safe– Safe and safe door where vault cash is contained
Lock– There are 3 main lock types, Dial Lock (standard) Electronic Lock ), Audit Lock- one time use Armor truck ready
Dispenser– This is the area where cash is stored and dispensed. The most expensive part to replace and is typically repaired rather than replaced. Standard issue is fixed cassette. A 2000 note removable cassette normally
Cassette– 2000 note removable is typical issue.A removable cassette is normally on a new machine.
Screen– The exterior screen for customer use, can be touch or just visual screen, most screen replacements.
Main-board– Most main board with modem are replacement
Card Reader– EMV is new and latest standard. Most ATMs built in the last 5 years can be upgraded to EMV fairly easily and with relatively low expense.
Modem board– Usually located on main board although can be separate, run.
Printer– A printer assembly
Keypad– PCI metal keypad
Power Supply– To replace a power supply on an ATM
Wireless– Many options exist for wireless devices