Are you looking to a Bitcoin ATM which can offer two-way buy and sell functionality or one-way buy functionality? Hongzhou Smart offers several customized Bitcoin ATM options.It helps you to earn more money and meanwhile gives your users a superior end-user experience.

Sleek Design And Highly Functional
Influenced by the simplicity and elegance of our compact model,Bitcoin ATM is a native one or two-way machine engineered for the manufacturing capacity and on-demand fulfillment needs of the next generation Bitcoin ATM operators.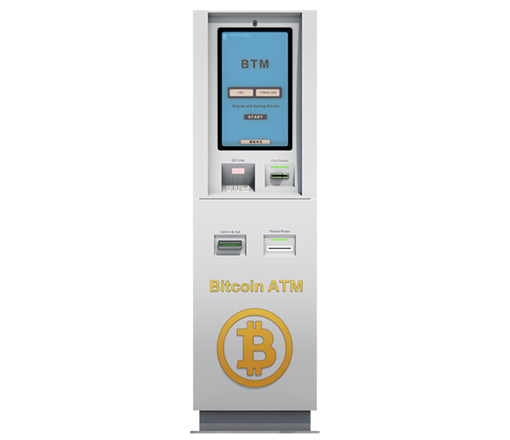 Hongzhou Smart's Bitcoin ATM employs only the high quality cash ATM machines and components.Design accords with ergonomics,easy for operators to access for maintenance, with options and cash holding capacity necessary for any location.
Easy to buy Bitcoin
Our user interface is intuitive and snappy. At its core there are three effortless steps, scan crypto address, insert cash, send. Additional steps for choosing alternative currencies or compliance requirements follow our strict standards of flow simplicity.
Easy to Sell Bitcoin
Selling crypto is ridiculously easy for zero confirmation or Ethereum transactions, and still easy as pie for standard confirmed transactions. The user simply enters their phone number and gets an acknowledgement as soon as funds are ready to withdraw.
Bitcoin Firmware Feature
Optional one or two way Bitcoin ATM

Industry PC,Windows,Android,Linux O/S can be optional
21.5" touch screen minitor,small or bigger can be optional
Bill Validator 1000-2200 banknotes can be optional
Bill Dispenser 500-3000 banknotes can be optional
Barcode Scanner
80mm thermal printer
Robust structure and stylish design,cabinet can be customized with color powder coating finish
Optional Modules:
Facing Camera
Fingerprint Reader
ID/Passport Scanner